Our gift cards are available for purchase online!* Offered in denominations of $15, $25, $50 & $100 our gift cards make the perfect gift for the burger lovers on your list, and we've made it easy to purchase them.
For online gift card orders, we offer two options: you can send the lucky recipient a customized printed card with their HiHo gift card or you can send a personalized email to let them know that the gift card is on its way. (Please note that all gift cards purchased online will be sent via USPS to the mailing address(es) provided during checkout.) 
Of course, you can also purchase your gift card during your next visit to HiHo in Santa Monica or Mid-Wilshire.
Giving the gift of HiHo has never been easier!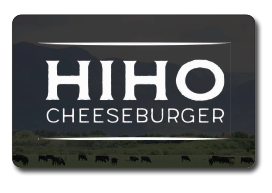 Click Card to Purchase.
---
Returns
Gift Cards purchased for HiHo Cheeseburger cannot be returned or redeemed for cash. Please contact us if you have concerns or issues regarding a purchase.
Security Policy Your payment and personal information is always safe. Our Secure Sockets Layer (SSL) software is the industry standard and among the best software available today for secure commerce transactions. It encrypts all of your personal information, including credit card number, name, and address, so that it cannot be read over the internet.
Giftly Cards? We do not support Giftly or any other similar gift card services. The only gift cards valid at our restaurants are the one issued directly by us or by our partner QuickGifts.
* gift Cards can be purchased by non-US Bank credit cards from overseas but we do not ship internationally.